Cultivage offers customized trainings, consulting and coaching to help your team achieve targeted goals in today's dynamic market. Sample offerings include:
COACHING TRAINING SERIES
Whether you are an executive, manager or new to your career, coaching skills help you inspire others for peak performance and high engagement, settle conflicts, create buy-in and influence stake holders. In this series, you'll learn powerful questioning techniques, strategies for improving accountability, listening skills for deep rapport, and other coaching skills to maximize your impact at work.
EMOTIONAL AGILITY FOR PROFESSIONAL SUCCESS
Just as athletes benefit from physical agility training, you'll reap professional rewards for being emotionally agile. Harnessing personal power, developing greater resiliency, and handling others' difficult emotions are just a few of the critical skills required into today's fast-paced world. In this training, you'll learn how to effectively manage a wide range of emotions and use them as fuel for catalyzing change and creating positive working environments.
VISIONARY SKILLS FOR EFFECTIVE LEADERSHIP
Some leaders are natural visionaries. Their thoughts often coalesce around a better or more productive future and way of doing things. Other leaders must work to improve this skill. This training helps leaders from all backgrounds and industries learn to envision possibilities, identify opportunities, develop a capacity for expansive thinking, and connect transformational ideas.
CREATIVE HABITS TO DRIVE INNOVATION
Innovation is at the heart of sustainable business and is a skill that can be cultivated. This training dispels myths about creativity and addresses mindsets that support expansive thinking, while helping you put into practice creative habits to fuel innovation.
MANAGING DIFFICULT CONVERSATIONS AND COMMUNICATION IN THE WORKPLACE
Research confirms that personal connections in the workplace boost productivity. Conversations drive connection, yet with the convenience of technology, they often take second seat. Discover practical strategies to help you handle difficult conversations in ways that build connection and enhance engagement.
STRATEGIES FOR SAVVY MANAGERS
Boosting motivation, promoting accountability, ensuring follow-through, handling conflicts and meeting deadlines – these are all duties managers perform daily. Yet lack of experience, fatigue and isolation can hinder your abilities to delegate and oversee the work of others. This training is perfect for both first timers and veterans looking to brush up on managerial skills.
MENTORING PROGRAMS THAT DELIVER MUTUAL BENEFITS
The benefits of mentorship are widely touted, but the nuts and bolts of how to effectively mentor and be mentored, and the best structures for effective programs are often overlooked. This training helps you master mentoring skills and put systems in place that allow these critical relationships to thrive.
WORK/LIFE INTEGRATION AND WELL-BEING
With technology and off-site offices, the line between work and life has blurred. Today, it's less about work/life balance and more about work/life integration. In this training, you'll discover ways to integrate your personal and professional values and address well-being metrics that support stress management, job satisfaction, and a sense of fulfillment.
LEVERAGING GENERATIONAL DIFFERENCES: FROM BOOMERS TO MILLENNIALS TO GENERATION Z
Each generation brings essential perspectives to the workforce. Effectively leveraging these perspectives and ensuring differences don't cause unnecessary friction is critical for your organization's bottom line. Explore how you can facilitate both an understanding and sharing of best practices to maximize the contributions of your diverse workforce.
2019 Fall Calendar (Trainings open to the public):
Coaching Skills for Leaders, Managers and Educators
Center for Professional Development – University of Denver, Denver, CO
Saturday, Sept 14, 2019   9:00 a.m. – 4:00 p.m.
Coaching Strategies to Promote Emotional & Social Agility
Center for Professional Development – University of Denver, Denver, CO
Tuesday, Oct 15, 2019    6:00 p.m. – 9:00 p.m.
Coaching Strategies to Lead Effective Teams 
Center for Professional Development – University of Denver, Denver, CO
Tuesday, Nov 19, 6:00 p.m. – 9:00 p.m.
Coaching Practicum
Center for Professional Development – University of Denver, Denver, CO
Tuesday, Dec 10, 6:00 p.m. – 9:00 p.m.
Leveraging Generational Differences in the Workplace
Center for Professional Development – University of Denver, Denver, CO
Saturday, Sept 28, 2019   9:00 a.m. – 12:00 p.m.
*A Coaching Certificate is offered through University of Denver for those who participate in the Coaching Skills for Leaders, Managers & Educators and the 3 other coaching courses listed above. Please contact us at 303-912-0271 for more information. 
Contact us for more information or to reserve your spot today.
"Maureen is a very talented coach and trainer who connects with a variety of audiences through emotional intelligence, strong communication skills and an engaging and flexible facilitation style. I also admire her diverse background and experiences that foster creative and logical approaches to problem-solving and the wisdom to know when to apply each or combine these. I highly recommend Maureen as a coach and trainer  for individuals and groups."
– Jennifer Groh, Talent Development and Organizational Effectiveness, Caterpillar, Inc.
Cultivage offers the following individual and 360 assessments: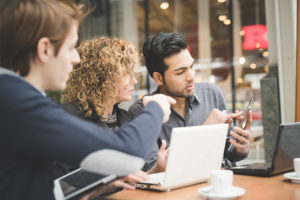 Social and Emotional Intelligence Profile
Myers Briggs Type Indicator
LMAP 360 Leadership Development Assessment
Cross Cultural Adaptability Inventory
---
"Our workshop with Cultivage was highly impactful! Maureen took the time to understand the work we do, our people, and our values to create a fully-customized program that greatly exceeded our expectations. Highly professional, Maureen was a pleasure to work with and was extremely flexible from start to finish. Her stimulating, hands-on approach and thorough delivery in communicating social and behavioral theories were effective as she challenged us to consider their practical implementations in our everyday consulting work. Our only challenge was not having enough time to spend with Maureen!"
-Graham-Pelton Consulting